Anniversary: The Grand Opening of the Church of Scientology and Celebrtity Centre Nashville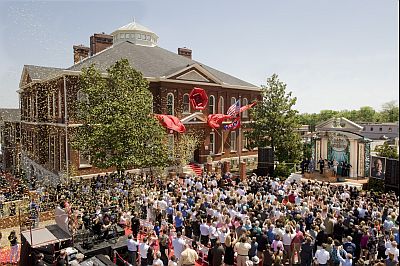 In April 2009 the Church of Scientology Celebrity Centre of Nashville held a spectacular ribbon cutting ceremony to signal the opening of their new quarters in Music City's Fall School Building. Nashville, the home of the Grand Ole Opry and the Country Music Hall of Fame, is now home to a very special new Scientology church as well.
L. Ron Hubbard, the founder of the Scientology religion, once said, "The world is carried on the backs of a desperate few." Because these desperate few are often the most neglected, Mr. Hubbard saw to the formation of Celebrity Centres—special Scientology churches, such as the new church in Nashville, that cater to artists, politicians, leaders of industry, sports figures and anyone with the power and vision to create a better world.
Speaking to the broader significance of a Church of Scientology in the heart of Music City, Scientology leader Mr. David Miscavige dedicated the new Church:
"The new Ideal Org and Celebrity Centre signals great things for tomorrow. And when you couple that with our ability to recover to individuals their inherent creativity, our ability to reawaken dreams and restore the power to achieve those dreams, yes, we can now make good on what L. Ron Hubbard tells us regarding the artist as creating the beauty and glory on which cultures depend.
"And that's both what this new Church represents and why we have come to Nashville. For while Nashville is known as the heart and soul of American music, let her now fulfill her destiny and write a song that will uplift every man."
But the Celebrity Centre of Nashville is also open to the general public seven days a week, offering everything from weddings, Sunday service and naming ceremonies to ministerial training and life improvement courses. Introductory courses cover a wide range of subjects from overcoming relationship problems, learning difficulties, and stress at work to improving communication skills and raising children.
This spectacular new church in Nashville is just one reflection of the unprecedented growth of the Scientology religion, which now offers service in nearly 8,000 churches and groups across 164 nations.
Each church is dedicated to achieving the Aims of Scientology: "A civilization without insanity, without criminals and without war, where the able can prosper and honest beings can have rights, and where Man is free to rise to greater heights."
Nashville Scientologists carry out their social mission through volunteer work to combat drug abuse and addiction. "We've been getting the word out about the dangers of drugs," said Brian Fesler, the Church's Director of Public Affairs. "In the past few weeks we've passed out thousands of booklets which cover the truth about drugs and the harm they cause."
The Church also has an active Scientology Volunteer Ministers group, which carries out community service projects and provides emergency response and disaster relief.
The Fall School Building, the Church of Scientology's new home in Nashville, is an historical landmark. Built in 1898 in a similar style to the legendary Ryman Auditorium, a prominent Nashville landmark erected six years earlier, the 36,000 square foot facility served the area as a public school until 1970. The Church purchased the building in 2007. Many of its original features were preserved, including the hardwood floors, doors and stairwells and eight solid wood pillars capped with iron that support a central three-story atrium.
The Church of Scientology Celebrity Centre of Nashville welcomes visitors seven days a week from 9:00 am to 10:00 pm on weekdays and from 9:00 am to 6:00 pm on weekends. For more information on the Church and its programs, visit www.scientology-ccnashville.org or call (615) 320-5550.
Labels: church of scientology, David Miscavige, Miscavige, Scientology