SCIENTOLOGY OPENS NEW NATIONAL ORGANIZATION FOR MEXICO IN THE CITY OF PALACES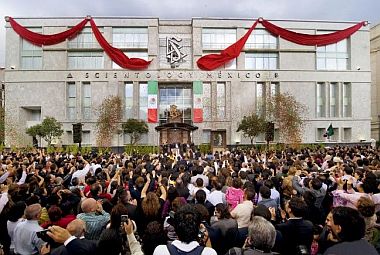 MEXICO CITY, MEXICO •
July 10, 2010
|
Led by a 30-man mariachi orchestra and colorful traditional dancers, 7,000 Scientologists and guests hailed the grand opening of the new National Scientology Ideal Organization for Mexico in the heart of Mexico City. Mr. David Miscavige, Chairman of the Board of Religious Technology Center and ecclesiastical leader of the Scientology religion, officiated the historic occasion.
The ceremony marked the conclusion of a full-scale reconstruction and design of Mexico City's Juarez Building. Directly adjacent to Mexico's Fine Arts Palace and neighboring the National Supreme Court, the National Bank and the National Palace, it stands as a six-story contemporary cultural landmark. Fully configured to be a physical embodiment of the religion, the building includes an extensive Public Information Center with 17 multimedia displays that presents and illustrates Scientology beliefs, the life of its Founder, L. Ron Hubbard, and the full array of its many social betterment and community outreach programs. In full, these displays provide a concise but panoramic view of the religion to visitors, students and others desiring to learn more about Scientology.
Who is David Miscavige?
- A Biography
Labels: David Miscavige, Mexico, Scientology